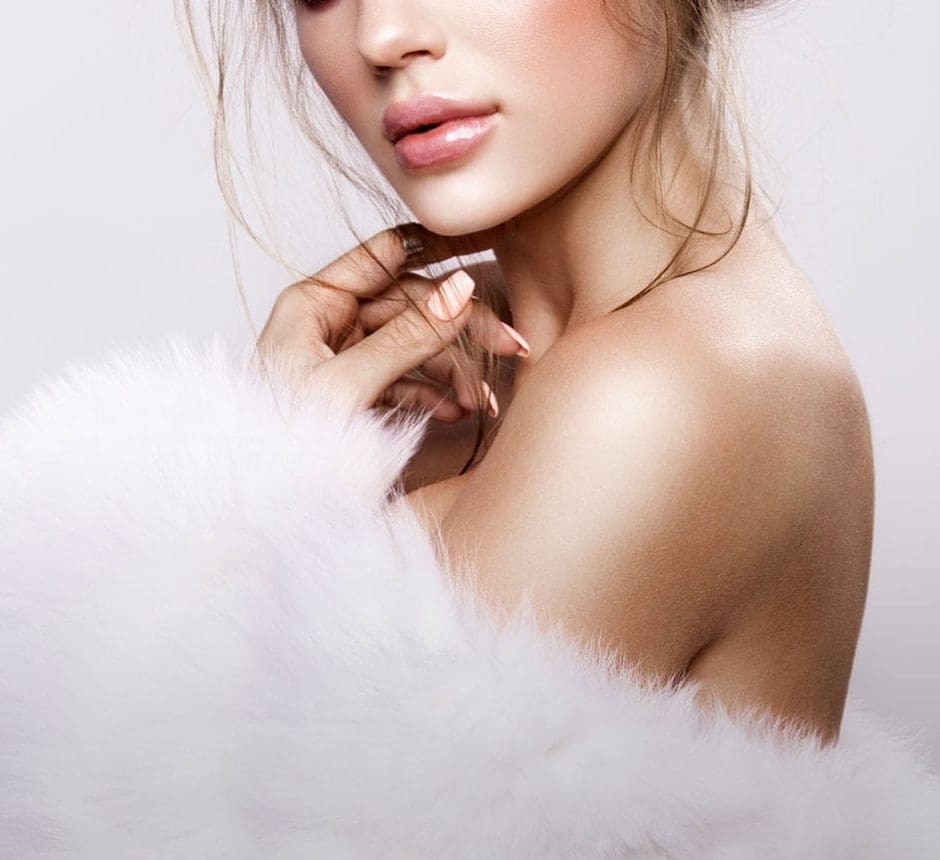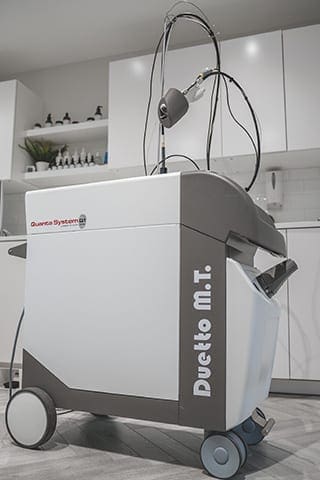 ---
As we grow older the collagen within our skin begins to break down and decrease. This results in loss of volume, elasticity and undefined facial contours. Laser skin rejuvenation Ascot is a non-invasive facial treatment that encourages collagen regeneration, improves pores, sun damaged pigmented skins and aids in reducing enlarged pores, fine lines and wrinkles.
Skin rejuvenation is based on light absorption in melanin and haemoglobin treating and clearing superficial skin imperfections and creating thermal damage to the collagen of the skin, which results in its regeneration. New collagen is thus produced which lifts laxity lines, plumps facial tissue and smoothes out fine lines and wrinkles.
The Quanta Duetto is the first laser in the world to offer mixed technology. The unique Alexandrite (755nm) and ND:YAG (1064nm) laser discharges these two wavelengths in a choice of a single emission, a sequential and simultaneous (mixed) emission.
Quanta Duetto laser for skin rejuvenation improves skins complexion by effectively brightening and micro-exfoliating the skin for a smoother and glowing look. Additionally, it tightens the skin by heating the epidermis (40-42 degrees) to stimulate collagen and elastin production. Great for improving acne prone skin, as well as dull and dehydrated skin.
Alexandrite is gold standard for lighter skin-types and ND:YAG is the gold standard for darker skin types. Having the ability to fire these wavelengths separately or together, gives us the ultimate tool and gives the client the ultimate experience.
This is achieved by the high melanin absorption of the Alexandrite (755nm) and the safety profile and ability of haemoglobin absorption of the ND:YAG (1064nm).
The use of mixed technology is great for skin rejuvenation, pigmented and vascular lesions and acne reduction. This technique offers better results than standard lasers or IPL, treatments are more comfortable for the client meaning you can achieve great results with minimal or no downtime and reduced risk of side effects. For more information on laser skin rejuvenation Ascot, contact us.
FAQ
How Many Treatments Are Needed?
The most efficient treatments are on lighter skin tones that are not tanned at the time of treatment. Recommended treatments of 4-6 sessions may be required to obtain the desired result; however this does depend on many factors including age, skin type, lifestyle, medication and area of treatment.
Do I Have To Do Anything Differently Before and After Treatment?
It is important to avoid tanning of the skin by sun beds, sun or self tanning before or during sessions as this may result in a less effective treatment. SPF sunscreen should be used in the treated area for a few weeks after treatment.
Pigmented lesions
Long pulse alexandrite wavelength is best for treating pigmented lesions due to its high melanin absorption.
Pigmented lesions suitable for laser treatment:
Macule (café au laits)
Solar lentigo sun spots
Freckles
Non-raised pigmented spots
Vascular treatment
The vascular treatment for the removal of facial and leg telangiectasia uses the sequential emission of the mixed technology to convert haemoglobin into methaemoglobin to increase the efficiency of the treatment.
Vascular conditions that can be treated with laser:
Cherry angioma
Spider nevi
Leg veins
Facial thread vein
Vascular pigmentation
Enquire about this treatment
To find out more or book an appointment please contact us.
Contact us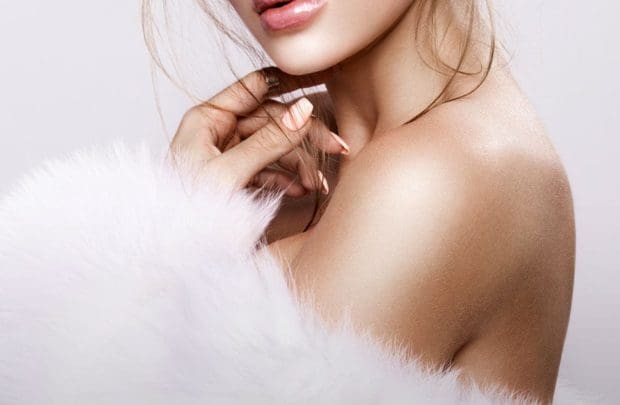 ---
You may be interested in
---
Browse similar treatments that may be of interest to you.
Wendy Birce
"Love Nishi! She is so professional and caring! Not only is she an amazing dentist she is fabulous and very good with aesthetic treatments. I'm very impressed with the before and after pictures. Very happy with the treatments."
Louise C
"I am loving my new lips!! Can't stop looking at them. I'm very happy with the treatment Nishi has done for me. This is my second time having fillers. I couldn't thank her enough for how fantastic and very patient she was with me. I will certainly be coming back to her, also friends and family have now booked in with Nishi. Great and relaxed service, she's very skilled on what she does."
Mamata
"What can I say? You have been so welcoming and warm towards patient care. You are such an amazing person. I absolutely love the enhancement!! You break the stereotype of the 'plastic look'. I had anti-wrinkle injections and filler done. Pain – minimal. I absolutely love it! When I apply my make up, it is so natural, people can't even tell the difference. I am super excited for Dr Nishi's new clinic in Sunningdale."
Tricia
"I love Nishi, she is so sweet, gentle and so professional. I have been so happy with my fillers, they look natural and make me feel 10 years younger. I look forward to seeing Nishi in the new clinic."
Claire Laverick
"I've had both anti-wrinkle and filler treatments from Nishi over the course of a few years. I have always been extremely happy with the results. I return to Nishi time and time again because she is so professional and produces optimal results each time. Nishi also puts you at ease and I always leave with a smile on my face!"
Lorna R
"I've had anti-wrinkle injections and fillers over the last year with Nishi! I have been amazed how natural my skin has looked after treatment, leaving my skin energised and refreshed. I can't wait to visit her new clinic for further treatment. Nishi is a lovely, caring professional."
Kelly
"Always professional and polite. I've never been unhappy with Nishi's treatments, I wouldn't go anywhere else. Looking forward to visiting the new clinic. It's guaranteed to be a success."
Blog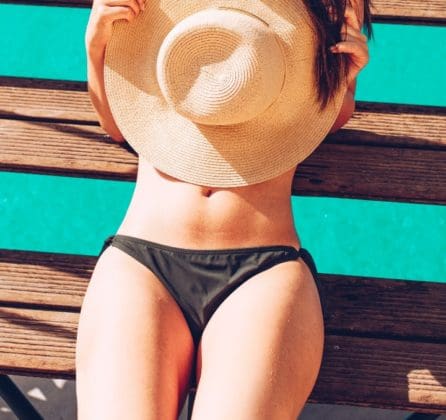 Enjoy 50% off CoolSculpting in time for Summer with Wentworth Aesthetics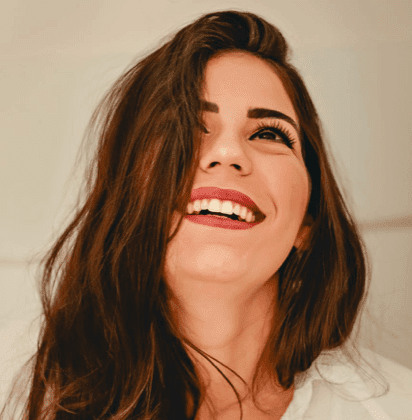 Enjoy Balanced and Beautiful Lips with Belotero® at Wentworth Aesthetics